(Hong Kong, 20 April 2017) Mr. Kan Siu Sum, Assistant Engineer of Chit Chueng Construction Co., Ltd., (subsidiary company of Sun Fook Kong) was recognized as "Outstanding Apprentice" in the Vocational Training Council (VTC)'s 2016 Outstanding Apprentice Award Scheme, out of 223 registered apprentices.
VTC organizes the "Outstanding Apprenticeship Award Scheme" for many years. The proposed outstanding apprentices are nominated by employers and assessed by a selection panel. The objective of the Scheme is to acknowledge the outstanding achievement and hard work of the apprentices, and the staunch support of the employers and industries to apprenticeship training in Hong Kong. The 2016 Outstanding Apprentices Award Presentation Ceremony took place on 22 March 2017, honoring a dozen highly-performing apprentices. CHAN Ka-kui, Chairman of the Construction Industry Council (CIC), congratulated the successful apprentices, noting they were selected after rigorous screening.
Kan Siu Sum is currently working in the CEC – CCC Joint Venture project "Kai Tak Development - Stage 2 Infrastructure Works for Developments at the Southern Part of the Former Runway" (contract number KL/2014/01). With his outstanding performance, he was promoted as an assistant engineer from technical apprentice earlier this year. He is now responsible for following up the progress of the construction, supervising the frontline workers and communicating with subcontractors and consultants.
However, Kan's first job was not in construction industry. He recalled the time when he decided to join this field. Because one of his friends was engaged in civil engineering, he got the chance to equip himself with a general understanding on the field; and it happened that he noticed the implementation of VTC Apprentice Training Scheme, in which Sun Fook Kong was employing apprentice. Kan then made up his mind to join the construction industry, and successfully passed the interview. His interviewer is his current project manager Alice Leung. "I really appreciate Alice for employing me and giving me the opportunity to take the on-the-job-training while taking high diploma course. She often takes the initiative to teach me knowledge and expertise, including how different projects are implemented."
Recognized by the company and nominated in VTC outstanding apprenticeship program, Kan attributed his success to his hard work, redoubled efforts and positive attitude, and his academic records have proved it. But he is not complacent, "I have always demanded a lot from myself to achieve good grades in my studies, to well prepare for pursuing a degree in civil engineering in the future, so that I can get to the next career level."
It has taken four years for Kan to finish the apprentice scheme, during which Kan witnessed quite a few peers quit as it is painstaking. He encourages the young guys who want to join the construction industry: first of all, think twice and find out your career direction; secondly, do not give up easily and strive to balance work and study. He also suggests Sun Fook Kong's management to form a WhatsApp group for the apprentices in Sun Fook Kong in order to enhance the communication among them.
In early March this year, Kan Siu Sum and other successful apprentices were also granted the opportunity of an exchange visit to Korea to enhance their vision. Together they toured local enterprises and a global consumer goods conglomerate, which broadened their horizons. They also inspected campus facilities to learn more about the latest development in the apprenticeship system there. Sun Fook Kong arranged a special celebration meeting on April 10, inviting Kan to share the experience in Korea. Mr. Patrick Lee, Managing Director of Construction and Civil Division of Sun Fook Kong attended the meeting and awarded a commendation letter and HK$ 1000 to Kan, recognizing his outstanding performance.
It is a crucial responsibility for the enterprise to cultivate talents. Sun Fook Kong has always been committed to training the talents of the future and will continue to attract more young forces to join the construction industry.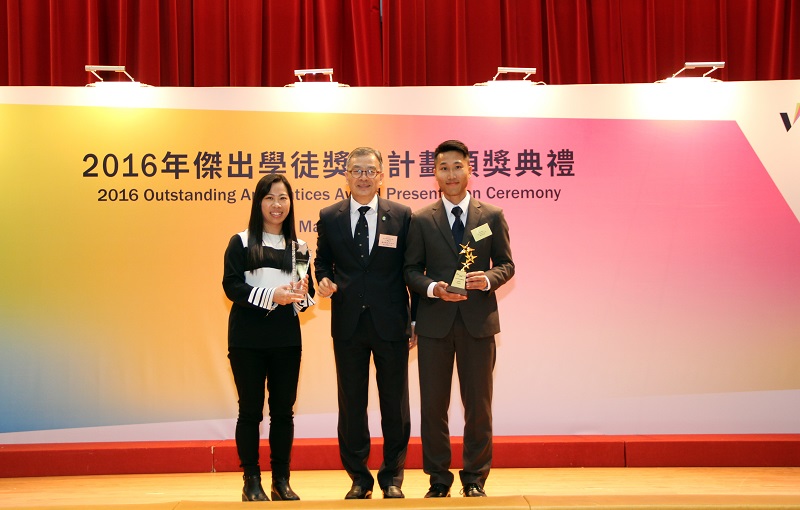 Kan Siu Sum (right) was recognized as "Outstanding Apprentice" in the Vocational Training Council's 2016 Outstanding Apprentice Award Scheme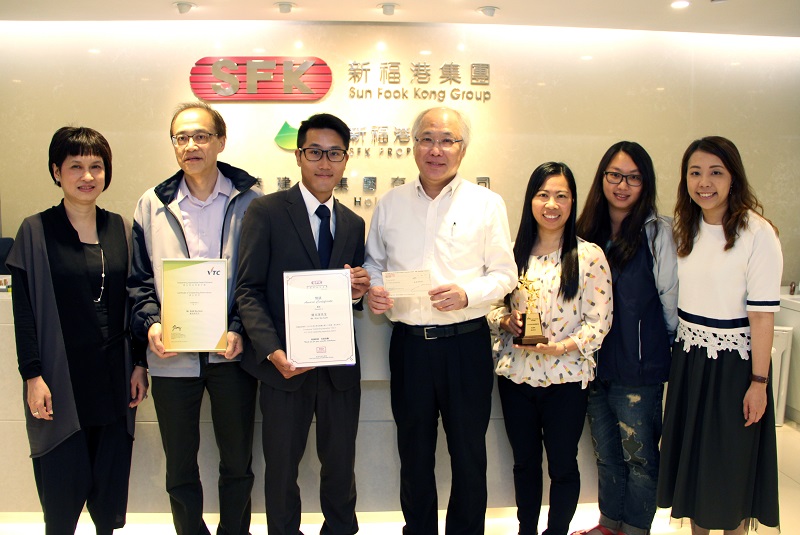 Mr. Patrick Lee, Managing Director of Construction and Civil Division of Sun Fook Kong (middle) awarded a commendation letter and HK$ 1000 to Kan (third left), recognizing his outstanding performance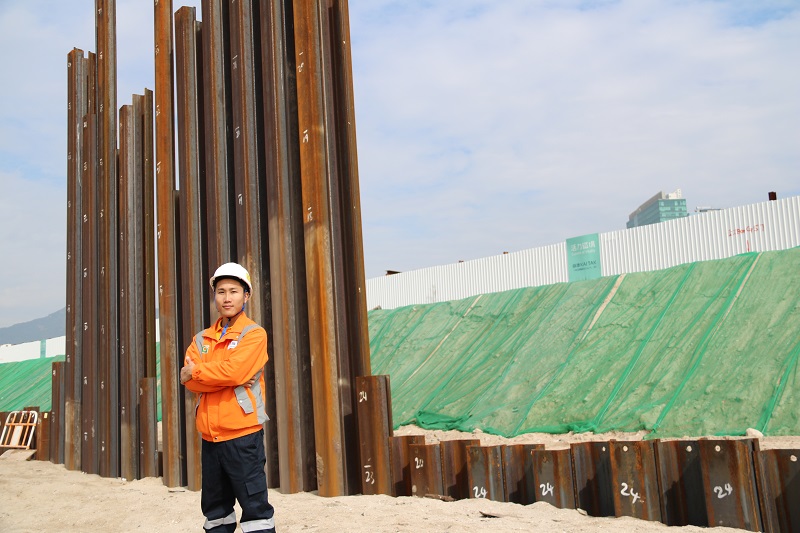 Kan attributed his success to his hard work, redoubled efforts and positive attitude